Here is a good one for all of you on your stash diets....Over at The Crafty Pad this week the challenge is....

Recycle something before it goes in the bin..... It can be anything!
There is a lovely new sponsor this week... Crafty Sentiments... see the blog for more details... The link is below...
I have decorated a 1kg Coffee Tin, using Papers from the Kate Knight Wild Blossoms Range by Dovecraft and using the Crafty Pad's Digi Image of Anna by the Gate. Enlarged the image to A5 size and coloured with Promarkers. I have attached it to the tin then painted with Diamond glaze. Added some pretty Butterfly Ribbon, Foam Roses and Pink & Green Paper Flowers, all from stash.
I intend to use it as a storage pot
Thanks for looking
Hugs rozzy xx
POST HAS BEEN UPDATED and has now been changed to a Challenge post..
rozpoz wrote:26/04/10

Would you like to win one of The Crafty Pad's Digi images..

Debbie has kindly agreed to donate one as a prize for this quick challenge...

As so many of you are on stash diets and we seem to be on a roll for recycling things...

I have now moved this post and turned it into a quick challenge to see who can upload

three

craft items that you have made using recycled items... you can be as adventurous as you like.. it doesnt have to be a card.. it can be anything crafty...

I realise that altering an item and turning it into something else, takes time...so I will set a closing date of Sunday 9th May for you to come up with them... hope to see you joining in and look forward to seeing your creations

Hugs rozzyxx
Last edited by
rozpoz
on Sun May 09, 2010 11:01 am, edited 4 times in total.
Reason:
To update and make into a quick challenge on recycling...
Trimcraft Idol!
Posts: 17735
Joined: Sun Apr 13, 2008 11:40 am
---
That is gorgeous Rozzy.... and such a apt challenge at the moment...I can almost hear the rustle of thinking caps....
Thank you all so very much for your support and encouragement.
Posts: 5087
Joined: Sat Oct 18, 2008 5:07 pm
---
Thanks Chris, I have been really good.. it was the cakeboard the other day!! what next ??
Trimcraft Idol!
Posts: 17735
Joined: Sun Apr 13, 2008 11:40 am
---
Beautiful work as usual Roz.

Janet xx
Life is what you make it, you only have one, so make it a good one and most of all enjoy it.
Posts: 10996
Joined: Thu Feb 26, 2009 4:40 pm
---
Thanks girls
i'm not usually that good at recycling, so I had to think hard what to use.. we get through a lot of coffee... dont drink tea! It was just at th eright time that the tin was nearly empty... so as the challenge says..... I recycled it before it went in the bin!!
I've just realised its been three items i have made over th epast few weeks that have been recycled... the Soap powder tablet box wrapping fo rmy little journal, the cake board wall hanging and this one.......

Can any of you come up with three items to recycle?
hugs rozzy xx
Trimcraft Idol!
Posts: 17735
Joined: Sun Apr 13, 2008 11:40 am
---
Rozzy it is just gorgeous..it will look fabulous on your shelf.
Here is mine - I used an old beer can to make the flower and swirl background and stamped the sentiment on to a piece of plastic milk carton..lol
Posts: 1717
Joined: Sun Apr 13, 2008 10:37 am
---
Fab card Debbie. love the colours and what a great idea to use for embellishments...we dont usually have any beer cans to try it out, but i bet they went so well using it with the embossing folders...and such a great idea too to find an alternative to stamp onto. well done...we can be thrifty if we try
xx
Trimcraft Idol!
Posts: 17735
Joined: Sun Apr 13, 2008 11:40 am
---
I recycle used candles to use with my embossing tools.
ice cream/takeaway containers for storage
cd's to use as paint pallets
Posts: 3117
Joined: Mon Nov 10, 2008 12:36 pm
---
You could use foil trays instead of beer cans Rozzy, or soft drink cans. I made fabric flowers from an old checked work blouse and some felt the other day. I also painted nail varnish flowers on a glass jar recently.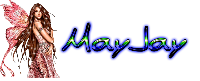 Trimcraft General All Round Crafter 2008
http://mayjaysmeanderings.blogspot.com
Posts: 5404
Joined: Fri Mar 28, 2008 2:59 pm
Location: Lincoln
---
what i really meant was for you to make three items using something that would have otherwise been thrown away .... and post them on here
Thanks for the suggestions though..... May... I am intreiged now about this flower made from your work blouse
i thought you had to had them back when you got new ones.... did you hand it back with a flower cut out of it
Trimcraft Idol!
Posts: 17735
Joined: Sun Apr 13, 2008 11:40 am
---
---
Who is online
Users browsing this forum: Bing [Bot] and 17 guests