Another Dreamcatcher Project.. this is an altered 3D frame, painted with white paint and decorated with lace and velvet ribbon, papper flowers and gems. the inside of the frame has been covered with FE Dreamcatcher paper and Die Cut Butterflies have ben added…with more gems.
Click on top gallery image for larger views….
Thanks for looking xx
Another UP UP & AWAY Project. This time an altered Bird House.
Larger images are in the gallery
Thanks for looking xx
Some more projects made with FE BIRD SONG. these are wooden Gift Bags covered in the papers…. xx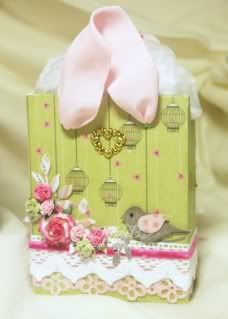 Altered House Frame covered in FE HIDEAWAY papers along with paper flower, gems and metal charms